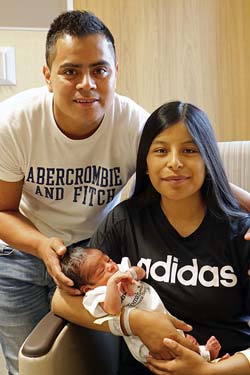 Two babies born in Tomah made history.
Faustino Silva Silva and Wendy Cruz Velasco of Norwalk were the parents of the last baby born at Tomah Memorial Hospital Oct. 1, while Sammuel Helmkamp and Breanna Pulley of Tomah were the parents of the first baby born in the Women's Health Services Dept. at Tomah Health Oct. 2.
For Silva Silva and Cruz Velasco, their son, Dylan, was born at 1:20 p.m., Oct. 1 weighing 6 lbs. and measured 18 ½ inches.
"We were not aware at first that he was the last (child) born," said Cruz Velasco. "We are very grateful and were treated very well by everyone," added Silva Silva. The couple's son was one of two babies transferred from Tomah Memorial to Tomah Health during the hospital patient move Oct. 2. "Its (new hospital) very pretty and marvelous," said Silva Silva.
Helmkamp and Pulley welcomed their daughter, Nova, Oct. 2 at 4:58 p.m. weighing 7 pounds 12 oz. and 19 ½ inches.
"Having the opportunity to experience everything first was pretty cool," said Helmkamp.
"I kind of felt like a celebrity," Pulley said of being the mother of the first child born at Tomah Health. Pulley was part of the patient move from Tomah Memorial to Tomah Health Oct. 2. "It was a long day waiting for her, but exciting to be able to experience everything," added Pulley.
The couple agreed that the new facility was the best place to have their child. "Everybody has been awesome with us. It's been a great experience," said Pulley.
Tomah Health marketing & public relations director Eric Prise said both newborns received a special 'onesie' denoting the last and first baby titles.
For more information on birth options, click here