Tomah Health's department of Cardiac and Pulmonary Rehabilitation offers comprehensive outpatient programs for patients managing cardiovascular or lung diseases.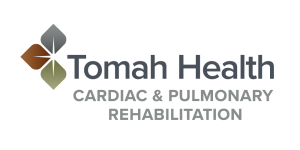 Cardiac Rehabilitation
Pulmonary Rehabilitation
Supervised Exercise Therapy for Peripheral Artery Disease
These services require a physician's referral. The goal is to improve overall quality of life by the way of exercise, medication management, risk factor reduction, and training to self-manage daily living.
After an initial evaluation our Clinical Exercise Physiologists will work with the physician to design an individually tailored exercise and education plan that promotes improving cardiovascular fitness and pulmonary efficiency according to the American Association of Cardiovascular and Pulmonary Rehabilitation (AACVPR) and American College of Sports Medicine (ACSM) guidelines. Patients typically receive two to three closely monitored exercise sessions per week in our state-of-the-art rehab gym.
Our programs run four to twelve weeks in length. Each person's rehab program is determined individually based on physical condition and personal goals.
Benefits
Based on scientific studies, participation in cardiac and pulmonary rehabilitation programs can:
Cardiac Rehabilitation
Improve physical function and strength
Reduce the risk of additional coronary problems
Improvement in blood lipid levels
Improvement in mental well-being and reduced stress
Longer lifespan
Pulmonary Rehabilitation
Reduce and control respiratory symptoms
Reduce shortness of breath
Improve ability to perform daily activities
Improve physical conditioning
Reduction in number of hospitalizations and number of days hospitalized
Supervised Exercise Therapy for Peripheral Artery Disease
Reduce severity of claudication symptoms
Improved initial and maximal claudication times (reduce disability)
Eligibility
You may be eligible to participate in Cardiac or Pulmonary Rehabilitation, or Supervised Exercise Therapy (SET) for PAD if you have one of the following conditions:
Cardiac Rehabilitation
Myocardial infarction (heart attack)
Coronary Artery Bypass Graft Surgery
Heart Valve Repair or Replacement
Stable Angina
Percutaneous Coronary Intervention (angioplasty or stenting)
Heart Failure
Heart Transplant
Pulmonary Rehabilitation
Chronic Obstructive Pulmonary Disease (COPD)
Emphysema
Asthma
Chronic Bronchitis
Pulmonary Fibrosis/Interstitial Lung Disease
Cystic Fibrosis
Lung Surgery
Lung Transplant
Supervised Exercise Therapy for Peripheral Artery Disease
PAD with documented symptoms
Medical Insurance Coverage
Insurance companies generally cover these programs, although you may want to check your plan to determine co-pays or other requirements. If this program is not a covered benefit, we can help you pursue other resources that may be available.
Patient Resources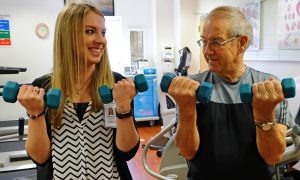 Your health and wellness are important to us! Our HealthClips Online Video and Resource Library is available for you to browse for accurate, reliable health and wellness information.
The following programs are recommended for you:
The Benefits of Cardiac Rehabilitation
Controlling your Risk Factors for a Healthier Heart
Exercising for Results: SMART Goal Setting
How do I manage my medications
To access, visit: TomahHealth.healthclips.com
This resource is proudly provided to you by Tomah Health. This resource was developed in collaboration with the American Heart Association/American Stroke Association and The Wellness Network.
Quality and Accreditations
Exercise is Medicine credential
Tomah Health Cardiac Rehab staff is 'Exercise is Medicine' credential with the ACSM American College of Sports Medicine. ACSM's Exercise is Medicine® (EIM) credential is a designation earned by achieving a combination of education and certification that allows staff to provide exercise guidance as an extended member of the health care team. Tomah Health Cardiac Rehab Coordinator Shana Steele, MS, RCEP, CCRP, CSCS, EIM3, said the credential allows staff the opportunity to work effectively with physicians and other health care providers to use exercise and physical activity, in the correct dosage as an effective patient care prescription.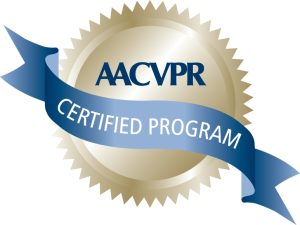 Our Cardiac Rehabilitation program is certified by the American Association of Cardiovascular and Pulmonary Rehabilitation (AACVPR). AACVPR Program Certification is the only peer-review accreditation process designed to review individual programs for adherence to standards and guidelines developed and published by the AACVPR and other professional societies. AACVPR-certified programs are recognized as leaders in the field of cardiovascular and pulmonary rehabilitation because they offer the most advanced practices available.
The American Association of Cardiovascular and Pulmonary Rehabilitation is a multidisciplinary organization dedicated to the mission of reducing morbidity, mortality and disability from cardiovascular and pulmonary disease through education, prevention, rehabilitation, research and disease management. Central to the core mission is improvement in quality of life for patients and their families.
For more information, contact Cardiac and Pulmonary Rehab Coordinator Shana Steele, MS, RCEP, CCRP, CSCS at (608) 377-8354.