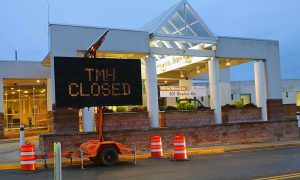 Tomah Health is officially open at 501 Gopher Dr., on Tomah's south side. Hospital Chief Nursing Officer Tracy Myhre reported a smooth transition as nine patients were moved from Tomah Memorial Hospital to Tomah Health in a little over an hour Wednesday morning.
"Everything went extremely well, better than we anticipated," said Myhre, who acted as the incident commander during the patient move.
Emergency Medical Services (EMS) staff from five area ambulance services provided transport for the patients with the last patient arriving at Tomah Health at 9:11 a.m.
"It really was a community effort and everyone did what they had been trained to do," added Myhre.
Hospital officials conducted three training exercises with area EMS and hospital staff before the actual patient move.
Like Tomah Memorial Hospital, Tomah Health will continue to operate as an independent, 25-bed critical access hospital but in its new three-story, 140,000 sq. ft. facility on Tomah's south side. "Leaving behind Tomah Memorial is a little bittersweet, it has been a home to many of us for several years but it is also exciting time to share our new, state-of-the-art facility at Tomah Health with the community and surrounding area," said Myhre.
Tomah Memorial Hospital first opened in 1952.
Tomah Health marketing and public relations director Eric Prise said future plans for Tomah Memorial are pending final approval of an offer to sell the building.