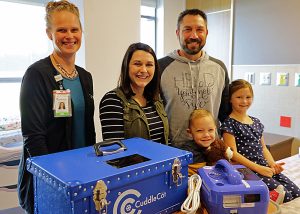 Melissa and Matt Shore wished that they were able to spend some additional time with their son, Kipton, who was delivered stillborn in July 2018.
"One of the things that people kept asking us was 'what can we do, how can we help, what do you need?'" recalled Melissa of the tragic event. "When we spent some time thinking and reflecting, the only thing we could come up with was just more time. We just wanted a little more time with him."
After some research and talking with family friends, the Holmen couple learned about the Cuddle Cot that they donated to Women's Health Services at Tomah Health Oct. 14.
The Cuddle Cot cools the babies' body, slowing the natural process that occurs after death and allows grieving parents to spend some extra time with their child in an effort to ease the mourning process.
"It allows the family to have the baby in the room with them and give them a little more time because you're given a couple of hours to pour a lifetime of love and memories into this child before you have to leave them," added Melissa.
Even though the event occurred at a facility outside Tomah, the Shore's reached out to Tomah Health officials to make the donation. "This was something we felt we could give back to families that are in the same situation that we were in," said Melissa. "It's a way for us to remember Kipton and allow his memory to help others during a time of need," added Matt.
An inscription on the Cuddle Cot unit remembers Kipton, while a plaque on the equipment case reads, "May this gift of time with your precious baby allow for memories you will forever hold in your heart. A moment in your arms, forever in your heart – Matt and Melissa Shore."
Tomah Health Women's Health Services director Carrie Lord, MSN, RN, RNC-OB said the organization was blessed to receive the donation that will help other families that may have to deal with the loss of a newborn. "It's really the gift of time that help with the healing process," said Lord. "It means a lot for us to be able to provide this for families."
Lord said the new Cuddle Cot will replace an older unit that had been used at the former Tomah Memorial Hospital for a number of years.
To Learn More About Our Women's Health Services Dept., CLICK HERE