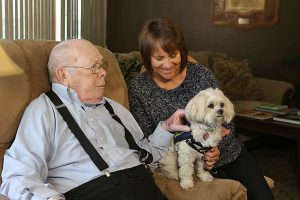 Pet Therapy is unique program within Tomah Health's Hospice and Palliative Care services. Our highly trained, volunteer therapy dogs serve to provide comfort, support, love, and animal companionship to patients, their families and staff. Visits are made upon referral or recommendation from Hospice Touch staff as well as permission from the resident/patient or their family. We have a number of different dogs that are able to make visits with their handlers, ranging in size and breed. The program matches the pet with the patient's individual preferences and needs. 
Benefits from dog-human interaction include, but are not limited, to:
Decreased anxiety and stress
Diversion from physical discomfort
Increased relaxation
Reduced incidence of depression
Expanded opportunities for laughter and joy
Alleviation of social and emotional isolation and boredom
Expanded communication
Reduced blood pressure
Comfort for the grieving (including anticipatory)
Certified through Therapy Dog International, a national registry for this type of service, dogs undergo an assessment of temperament, social skills, following commands, and more as well as specific pet therapy training. Pet owners also complete volunteer training before becoming certified within the program.
To learn more about the Pet Therapy Program, call our main office at 608-374-0250.