Hospice Touch offers a beautiful hospice residence known as our Serenity House located at 601 Straw Street in Tomah, WI as an option for people who can no longer stay in their own houses.
Opened in October 2011, our facility includes rooms to care for up to 8 residents using state of the art equipment.
Each private room is individually decorated just like home, complete with bathroom and shower facilities, flat screen television, sitting area and walk in closet.
All rooms also provide state of the art medical features, including overhead patient lifts for care and safety, computerized record keeping, along with 24-hour/day care by licensed practical nurses and a certified nursing assistant who will help with personal cares, medications and meals.
A separate kitchen, living area, library room and outdoor patio also enhance our home setting.
Our home provides comfort, care and support to individuals and their families when they need it most.
Questions Regarding Payment
The room charges for Serenity House are separate from the hospice benefit provided by Medicare, Medical Assistance and insurance plans. The daily charge is negotiable with a sliding fee scale. Application for a reduced rate can be make by completing a Tomah Health community care form. Memorials and other donations to Hospice Touch are welcome, and they help make up the difference for those who cannot pay the full fee.
For more information, contact Hospice Touch at 608-374-0250.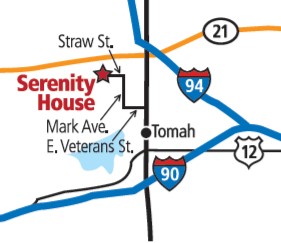 See More of our Facility in Tomah. Take a Tour >