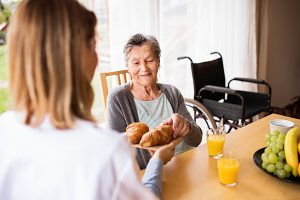 Do you have an interest in healthcare? Could you be of help and comfort to those in need? If so, consider that one of the most rewarding things a person can do with their spare time is to work as a volunteer. Your role will be to assist in a number of important areas of operations and patient care.
Volunteers provide an important role to our hospice and palliative care programs. Whether it's providing companionship to a person in the final months and weeks of life, offering support to family members and caregivers, or helping with community outreach and fundraising, the contributions of volunteers are essential to our work.
Trained Hospice and Palliative Care volunteers can choose to be involved in a variety of ways, including: direct services with patients and their families, office clerical work, or assisting with special events and fundraising.
By volunteering, you can gain a great personal satisfaction from knowing that you have made an impact in another person's life and in our community.
It takes more than 40 volunteers to coordinate the Hospice Touch and Palliative Care programs which cover Monroe, Juneau, Jackson and Vernon counties.
Contact Hospice Touch for more information on volunteer opportunities at 608-374-0250.