Swing Bed
What is swing bed?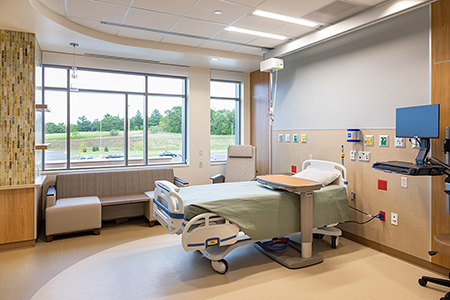 Swing bed services are a stop between hospital and home, where patients get the continued care they need while recovering from an illness, injury or surgery. Our skilled staff provides on-site care, 24 hours a day, to help patients return home safely.
Patients enjoy the comforts of home, while family has the comfort of knowing their loved one is receiving the help they need. The length of stay varies, but the quality of care is consistent. After meeting patient-centered goals, patients can return home stronger and with more confidence.
Why do patients need swing bed care?
Our goal is to help patients return home safely. Swing bed services can help patients who need skilled rehabilitation and/or nursing for the following (not limited to):
Extended duration of IV medications
Wound care
Nutritional Support
Close assessment, monitoring, and management of chronic diseases
Medication management
Rehabilitation after surgery, accident, injury or acute hospitalization
What can I expect in swing bed care?
Medical – skilled staff provides on-site care, 24 hours a day
Nursing – provides recovery care, assessments, pain management and education
Physical Therapy – provides injury rehabilitation and helps patients build strength to prevent falls and gain movement, balance and flexibility to resume activities like walking or exercising.
Occupational Therapy – focuses on leisure activities and daily living skills that may include dressing, bathing and meal preparation.
Respiratory Therapy – provides respiratory care and education about treatments specific to you breathing and keeping your lungs healthy.
Nutrition Services – offers individualized nutritional education and support that is important to your preferences and optimizing your health and wellness.
Speech Therapy – helps with communication skills, reading and safe swallowing.
Pharmacy – works with patients and the medical team on medication management, safety, minimizing side effects and medication education.
Patient and Family Services – helps patients and families with engaging additional community services and resources throughout your SWB stay as well as for after discharge upon returning home. Our patient and family services team can also assist with completion of advance healthcare directives and/or facilitating discussions/planning for patients as they wish.
Here to help you home
When therapy goals are met, we make the transition home easier for patients and their families. As patients plan for discharge home from swing bed, help may include:
Arranging in-home personal care, nursing, or rehab services if needed
Medication administration assistance such as bubble packing medications, medication delivery, family oversight
Suggestions for home safety modification
Facilitating Life alert monitoring
Transportation assistance for follow up appointments
Helping find alternate living arrangements if needed and having a concurrent plan if concerns with managing at home surface
Coordinating community services such as home delivered meals, home clergy visits, referrals for transitional care management/chronic disease management, referrals to aging and disability resource center, financial resources/assistance
Providing guidance if a patient needs home medical equipment and supplies (shower bench, walker, wheelchair, etc.)
Does insurance cover swing bed services?
Medicare benefits pay for the cost of swing bed services. Many private health insurance providers also pay, pending pre-certification. It is important to note that every insurance provider/payer is different in terms of benefits, coverage and co-pays. While insurance coverage is a part of our referral process before accepting a patient to the swing bed program; patient's and/or their representatives are encouraged to know their insurance benefits and coverage for swing bed benefits prior to admission to our Swing Bed program at Tomah Health. Questions and concerns about our Swing Bed program are always welcome.
To learn more about swing bed, call 608-377-8444.
---
Respite Care
Millions of Americans provide unpaid assistance each year to elderly family members in an effort for them to remain in their own home and community settings for as long as possible. Respite care is a method of temporary support or relief for those caring for an adult at home. This allows the caregiver some temporary relief from day-to-day responsibilities and pressures which is critical to their own health and productivity. Respite care ensures that elderly loved ones still receive the attention needed 24-hours per day, while caregivers take care of themselves and other responsibilities. Respite care is not designed to be a substitute for nursing home care and it is only a temporary service (few days to one week).
The cost of respite care will be determined based on the needs of the respite patient. Medicare, Medicaid and private insurance companies typically do not cover the cost of respite care. Respite care is typically a private pay service.
The Patient and Family Services Department would be happy to assist in arranging for respite care services. At least one week in advance, Patient and Family services staff should be contacted at 608-377-8444 to assist in making arrangements. Please note, all efforts will be attempted to facilitate the respite care need, however, availability may be limited based on other acute care needs and bed availability.