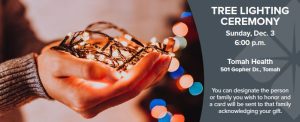 With a Hospice Love Light donation, you are giving a gift of love honoring special friends, relatives, or loved ones who are no longer with us. Annually, Tomah Health holds a Tree Lighting Ceremony in December where we honor these individuals. This year the Love Light Ceremony will take place on Saturday, Dec 3 at 6:00 p.m. at Tomah Health – 501 Gopher Drive, Tomah, Wisconsin 54660. 
You have the opportunity to make a donation to honor someone special to you. You can designate the person you wish to remember and a card will be sent to the family acknowledging your gift.
This year donors have the opportunity to upload a photo of their loved one online or bring a photo along with the completed Love Light 2023 Brochure or Love Light 2023 Flier to the Hospice Touch office for it to be included in the ceremony presentation. Donations must be made by Nov. 20 to be included in the ceremony.
CLICK HERE to donate and upload a photo electronically.
If you have any questions or need assistance uploading a photo please call 608-374-0250. Thank you for supporting the

 mission of Tomah Health Hospice Touch & Palliative Care by making a donation and attending our Tree Lighting Ceremony.