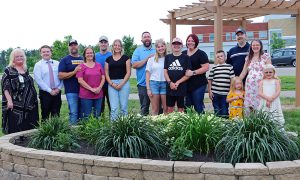 Tomah Health Chief Nursing Officer Tracy Myhre always remembers the lessons taught by former hospital Emergency Department registered nurse Konnie Bach. "Konnie actually trained me before I was even the director of the emergency department. She trained me as a new nurse at Tomah Memorial (hospital) and I never forgot the lessons," said Myhre who was the ED Director for 13 years before becoming the hospital's Chief Nursing Officer in 2013.
Myhre along with hospital administration and staff officially accepted a donation June 29 from Bach's family that was used to construct a pergola and flower garden in memory of their parents, Konnie and Wayne of rural Wilton who died in April 2022. "Konnie loved flowers; she was forever trying to teach us how to grow flowers," recalled Myhre. "Konnie loved the outdoors, so I think the pergola and flowerbed really speaks to who they were and what they represented," said Myhre. "Both Konnie, who was a long tenured employee of the hospital and Wayne who supported her and worked locally, were very big supporters of the hospital and the community."
Bach's oldest son, Ernie of Elroy said he and his two brothers, Russell of Hillsboro, and Kaleb of Necedah, came up with the idea to donate funds to construct the pergola and flower garden located near the main entrance of the Tomah Health campus. "They would love it," said Ernie. "They loved each other and she loved the hospital," he said.
"The hospital was my mom's career, life, everything she loved and enjoyed," added Russell. "We moved up from Iowa in '82 and she got a job at the hospital and that was her love. So anything we can do back is a benefit for that."
Youngest son, Kaleb agreed saying the pergola and flower garden are a fitting memorial. "Both my parents always poured their hearts out to everyone and it's very nice and fitting that they are getting honored in this way."
Konnie worked at the hospital for 30 years. "She was amazing, and certainly is missed," added Myhre.