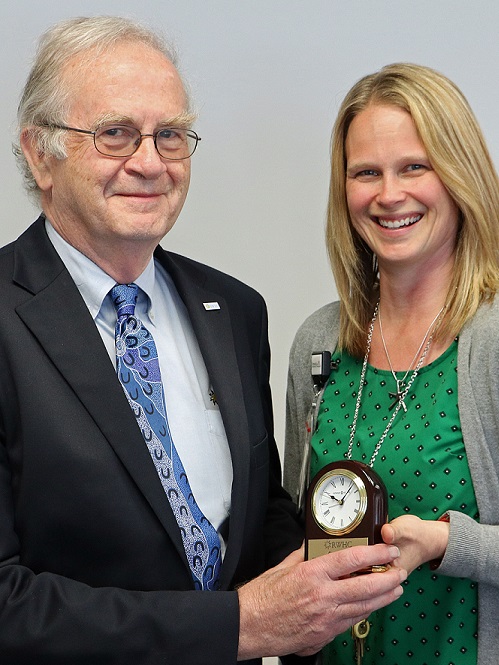 Tomah Health obstetrics director Carrie Lord is among a select group of health care professionals in Wisconsin recognized for making a significant contribution to rural health and the local community.
Lord, MSN, RN, RNC-OB, received the Rural Wisconsin Health Cooperative's (RWHC) Rural Health Ambassador Award during a ceremony at Tomah Health May 8 as part of the hospital's recognition of National Hospital Week.
"We started it (award) about 15 years ago very specifically to honor employees who are the foundation of the work we all do together in rural health, and also to encourage people to speak up for rural health and make stronger the links of the hospital with the community," said Tim Size, executive director of the Rural Wisconsin Health Cooperative, who presented the award.
Size said it is amazing that hospital employees like Lord find time to contribute to the community while meeting obligations at work. "It's just great how people do contribute to their community; it's what makes rural health so special," said Size.
Lord has worked at Tomah Health eight years, including the last year and a half as director of the hospital's New Beginnings Birth Center obstetrics department.
"Carrie clearly demonstrates the characteristics that comprise the cooperative's award," said hospital marketing & public relations director Eric Prise. "Her dedication and actions overwhelmingly exhibit her commitment to rural health care and make her an outstanding representative for Tomah Health."
Size said 15 people across the state received the award.
Incorporated in 1979, RWHC is owned and operated by 40 acute, medical-surgical hospitals, including Tomah Health.