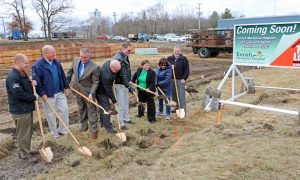 Tomah Health is stepping up health care offered to local businesses and industries by constructing a new 3,400 sq. ft. occupational health and wellness clinic in Tomah's Industrial Park.
Officials gathered March 31 for a groundbreaking on an estimated $500,000, one-story building at the corner of Townline Road and Martin Avenue on the city's northwest side.
"One of the big requests we received from the local businesses is that they would like a site closer to them," hospital clinic operations director Kyle Berra said of the new facility. "Currently we are operating on multiple levels of the hospital and this new facility will give us a type of one-stop shop," said Berra. "We felt that by moving into the industrial park we would be right around the corner or across the street from many of our largest employers in the Tomah or Monroe County area." He said they currently offer services to about 100 area businesses and industries.
"The clinic will not be open to the general public, but will specialize in work-related services, whether that be a work related injury or a pre-employment type of a need." He said health services include; rehabilitation services like pre-work screens, evaluations and conditioning, drug collections and testing, physical exams, testing and vaccinations, plus health, wellness and education services at the clinic and on-site at the business or industry.
"I think businesses are always facing more scrutiny from regulatory agencies to cut down on work-related injuries, said Berra. "The businesses are really making an effort to hire the right people for the job, those who are healthy enough to do the job and for those that are unfortunate enough to be injured on the job they want them to get back to full work as safely as possible."
Berra said the clinic will accommodate walk-in patients, for drug screenings, but the majority of patient visits will be by appointment through the employee's business or local health care provider.
Plans for the facility include patient examination rooms, a rehabilitation area, audiology room and staff working space. Berra said the parking lot would be designed for "easy access for trucks" to accommodate truckers needing work-related tests.
Berra said the facility would include a staff of five, including a nurse practitioner, registered nurse, a medical assistant, a drug collection specialist and community outreach assistant. He said additional employees could be added as business volume dictates.
Plans for the clinic have been in the works a couple of years. Last year the hospital purchased the property and had an existing house on the site razed to make way for the new clinic. Berra said the hospital had originally looked as leasing available space in the nearby Tomah School District Robert Kupper Learning Center.
Tomah Lumber is the general contractor for the project, which Berra said should take about six months to complete. "We're hoping for August or September for a move in," he said. "Everybody is pretty excited."
Learn More About Tomah Health Occupational Health & Wellness Services CLICK HERE