Popcorn is the perfect snack. It's light, filling, low in calories, low in fat, and easy to make! In addition, it's portable and super tasty. Honestly, you cannot go wrong with popcorn but beware, as not all popcorn is created equal.
According to the American Heart Association, when air-popped and lightly seasoned, popcorn is an efficient healthy snack because it is whole grain and high in fiber. Whole grains have been linked to a lower risk of heart disease, diabetes, and other health conditions. Popcorn also packs more fiber per serving than whole-wheat bread!
Now movie theatre popcorn is a whole other story. A tub of movie theatre popcorn contains up to 1,090 calories and 2,650 milligrams of sodium. The high calorie and high sodium alone are very troublesome as high sodium can cause many health concerns such as hypertension and risk of stroke. As you can see, not all popcorn snacks are created equally.
To avoid high calories and sodium, there are many options to keep popcorn a healthy snack. The best way to make and consume popcorn is when it is air-popped versus pre-packaged. Making homemade stovetop popcorn is the most beneficial way to enjoy popcorn. However, brands like Skinny Pop and Pop Secret have calorie-reduced microwave popcorn, including 100-calorie bags.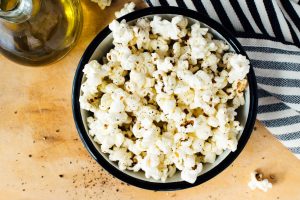 Making popcorn at home has many benefits!
It's a healthy snack. Popcorn is high in fiber, low in calories, and helps you feel fuller with less quantity.

Depending on your chosen method, it's ready in less than 5 minutes, and there is no mess.

You can customize it in many ways! You can add many different flavors and spices. The ideas are endless. See below for two delicious recipes!

It's cheaper than store-bought/pre-packaged popcorn and is often healthier.

If you choose stovetop or air-popped, it can be a fun process for the family to make together.
Learn how to make perfectly popped popcorn under 10 minutes! You will never go back to microwave popcorn again!
With limited ingredients and endless flavor recipes, making stovetop popcorn is easy and fun!
Ingredients: Yielding about 10 cups (4 servings)
Two tablespoons extra-virgin olive oil

½ cup of kernels (divided)

Salt and seasonings to taste
INSTRUCTIONS:
Combine the oil and two popcorn kernels in a large, heavy-bottomed saucepan over medium heat. Cover the pot and wait for the kernels to pop, which might take a few minutes. In the meantime, place a large serving bowl near the stove so it's ready when needed.

Once the kernels pop, turn off the burner, remove the pot from the heat and pour in the remaining popcorn kernels. Cover the pot again, and give the pot a little shimmy to distribute the kernels evenly. Let the pot rest for 60 seconds to ensure the oil doesn't get too hot before the kernels are ready to pop.

Turn the heat back to medium, put the pot back onto the burner, and continue cooking the popcorn, carefully shimmying the pot occasionally to cook the kernels evenly. Once the kernels start popping, tip the lid to allow steam to escape (see photo).

Continue cooking until the popping sound slows to about one pop every few seconds. (If the popcorn tries to overflow the pot, tip the upper portion of popcorn into your bowl and return it to the heat.)

Remove the lid and dump the popcorn into your serving bowl. Sprinkle the popcorn with pinches of salt or seasonings (see below) to taste and any other topping you would like. Toss the popcorn and serve immediately for the best flavor and texture. The popcorn will taste good for several hours, though.
To spice up your popcorn try any of the recipes below!
Ranch
1

teaspoon

 

dried dill

1

teaspoon

 

dried parsley

1/2

teaspoon

garlic powder

1/2

teaspoon

 

onion powder

1/2

teaspoon

sea salt
Garlic & Herb
1 – 2

teaspoons

garlic powder

 

(depending on your preference – start with 1)

1/2

teaspoon dried oregano

1/2

teaspoon

 

dried thyme

1/2

teaspoon

 

dried parsley

1/2

teaspoon

 

dried sage

1

teaspoon sea salt
Spicy Chipotle
1 – 2

teaspoons

 

chipotle chili powder

Zest of 1 lime
Sources
Arman. "Air Popped Popcorn- 3 Ways!" The Big Man's World ®, 4 Mar. 2022, thebigmansworld.com/air-popped-popcorn/. Accessed 12 Jan. 2023.
"Perfect Stovetop Popcorn." Cookie and Kate, 27 Mar. 2018, cookieandkate.com/perfect-stovetop-popcorn-recipe/.
"Popcorn as a Snack: Healthy Hit or Dietary Horror Show?" Www.heart.org, 18 June 2019, www.heart.org/en/news/2019/06/18/popcorn-as-a-snack-healthy-hit-or-dietary-horror-show#:~:text=When%20it.