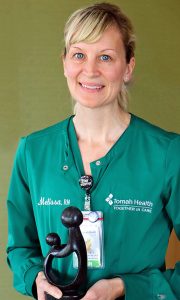 Melissa Gollnik likes being a nurse because she is passionate about taking care of people. She also is inspired to make a difference for patients with cancer. The Tomah Health Infusion registered nurse was named the hospital's 2023 recipient of the coveted DAISY award May 11 in recognition of National Nurses Week.
"I was not expecting this. My patients are everything to me so being recognized in such a way is a true honor," said Gollnik, who was has been an oncology nurse 22 years, and a member of the Tomah Health Infusion Dept., nearly five years.
Gollnik, who lives in West Salem, was one of 29 nurses at Tomah Health nominated for the award this year, and the seventh nurse to receive the DAISY award since the hospital first implemented it in 2017.
In one of two patient nominations highlighting Gollnik, Crystal Anderson of Norwalk wrote that Gollnik was 'her light at the end of the tunnel' during Anderson's chemotherapy treatments in the Infusion Services Dept., at Tomah Health. "She was able to see beyond me being a patient and treated me like I was the most important person to walk through (the) Infusion doors," Anderson wrote. "When I was emotional, (she) cried with me, hugged me when my whole work was consumed with cancer," Anderson added.
Gollnik said she was 'taken back' by the kind words. "Being who I am with patients is how I am in my real life. We have very hard days as nurses and just to know that I have made a difference, even if it's in some small way in patient's journey means a lot to me. Cancer is very hard and there is no other way to describe it; so making a difference in their life and being a part of their journey is important."
Gollnik wanted to be a nurse when just 10 years old after her cousin died of leukemia. "I knew right there and then that this is exactly what I wanted to do. I wanted to in some way carry on his spirit, his legacy and to care for those that need it the most."
She also has her own business – Bee Zee Beating Cancer Creations, which was named after her cousin to 'encourage the fighters, celebrate the survivors and remember the lost.' "I make signs and buttons from my shop to help inspire and to encourage and support patients, their families and friends. My motto is that nobody is in this alone. Everyone has somebody in some way – you're never alone in this journey."
Tomah Health Infusion Services & Women's Health Services Director Carrie Lord, MSN, RN, RNC-OB, said Gollnik's recognition was well deserved. "Melissa is an amazing nurse. She really connects and cares for her patients; she goes above and beyond every time for every single one," said Lord.
Lord said the Daisy Award holds a great deal of significance for all nurses at Tomah Health. "I think it shows the public that our nurses are caring and compassionate and truly want to do the best for our patients."
The recognition program was established by the not-for-profit DAISY Foundation, based in Glen Ellen, California, by family members in memory of J. Patrick Barnes, who died in late 1999 from complications of Idiopathic Thrombocytopenic Purpura (ITP), an autoimmune disease. Bonnie Barnes, FAAN, President and Co-Founder of The DAISY Foundation said the care Patrick and his family received from nurses inspired this unique means of thanking nurses for making a difference in the lives of their patients and patient families.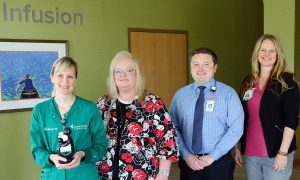 Tomah Health Chief Nursing Officer Tracy Myhre, MSN, RN, said the DAISY Award is reflects the type of nurses that work for the organization. "Because this award is recognized internationally, I think that it says that our nurses provide that 'human touch' when they are caring for our patients and that we value our nurses," said Myhre. "We recognize the work that they do and the difference they make in our patients' lives." Nearly 140 nurses are part of the Tomah Health staff. Myhre added that patients, families and colleagues can nominate nurses for the recognition using a DAISY Award nomination form located at the hospital and on the hospital's website. CLICK HERE 
DAISY winners are recognized and their name is added to the national DAISY website, CLICK HERE