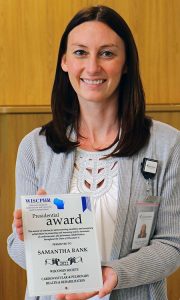 Tomah Health registered clinical exercise physiologist Samantha Rank, MS, RCEP, CCRP, EIM3, has been recognized by the Wisconsin Society for Cardiovascular and Pulmonary Health & Rehabilitation (WISCPHR) for excellence and exemplary achievement in promoting and increasing public awareness of cardiovascular and pulmonary rehabilitation.
Rank received the Presidential Award for cardiac and pulmonary health & rehab recognition during the recently held WISCPHR annual conference.
"It's great to see Sam's professional development and growth in the state organization," said Tomah Health Cardiac & Pulmonary coordinator Shana Steele, MS, RCEP, CCRP, CSCS, EIM3. "We certainly are happy that she has been recognized for her outstanding commitment and efforts to enhance and promote cardiac and pulmonary rehabilitation."
Rank has served as the organization's treasurer the past four years and continues to serve on the Annual Conference Planning Committee and Sustainability Committee.
WISCPHR is a professional organization of physicians, nurses, physical therapists, exercise physiologists, dieticians and respiratory therapists who work with cardiac and pulmonary patients in rehabilitation programs. Members focus on therapies and lifestyle behaviors that reduce the risk of heart and pulmonary diseases and improve the quality of life for patients who have these diseases.