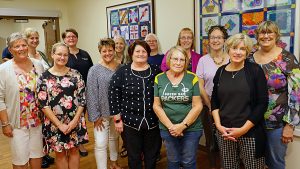 Thanks to the creativity of 34 area quilters, visitors to Tomah Health can appreciate two handmade quilts.
Earlier this year, hospital officials invited area quilters to take part in the project by contributing two fabric shaped squares using the theme: "With Love: Mother Earth."
"We put the word out on Facebook and within a couple of days we had everyone signed up. It was amazing," said Tomah resident and quilter Laura Bishop, who along with Tomah Memorial Hospital Human Resources Director and quilter Brenda Reinert coordinated the project.
The fabric squares were collected and later sewn together and assembled by Bishop and Reinert to create the two, 45" x 45" quilts now on display on a wall in the Women's Health Services Department at Tomah Health.
"I think we were a little leery about that many individuals contributing to one cohesive project," admitted Bishop. But she said the end project was more than they expected.
"The quality of the work and the variety of what people did was simply amazing," Bishop said.  "Some did appliques, some did embroideries and some did it by hand and machine," she explained. "There were beads, turtles, the earth, flowers, tributes to loved ones and it just all tied together and it came out above what we thought it would," said Bishop. "I appreciated the opportunity to have been involved with it – it was very cool."
Reinert too was impressed with the end projects too.
"It was an honor to see each block and if personally delivered, listen to the story behind it," said Reinert.  "The quilt is not just about the fabric Laura and I selected, how Laura arranged and sashed the blocks, or about how I finished them,  it's about the care and meaning that each individual quilter put into their block," Reinert explained. "Those stories are what make these quilts and the project absolutely amazing and an incredible contribution to Tomah Health."