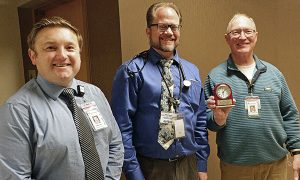 During his 31 years of practicing medicine, Dr. Rod Erickson has seen many changes in health care. The Mayo Clinic Health System Tomah Clinic provider was recognized for his service to Tomah Health by the hospital's Medical Staff at its annual meeting Jan. 16.
"I've seen the hospital go from a good organization to a great organization and it's really because of the people that I've been privileged to work with," Erickson said of Tomah Health. "For the most part, we grew up together and really helped raise the current generation of staff that is here at the hospital."
Erickson officially retired from Mayo Clinic Dec. 1.
Throughout his career, Erickson served on various hospital committees and boards. "When we started, we were a medical staff as a whole without specific committees," Erickson recalled. "I'm proud of the staff that we helped build and the people that are here now. They are all great people to work with and the current staff is totally awesome."
Tomah Health CEO Derek Daly and hospital Medical Staff president Jeffrey Cavaness, M.D. presented Erickson a recognition clock for his 31 years of service. "We are extremely thankful to Dr. Erickson for his expertise and experience that he brought to our organization," said hospital CEO Derek Daly. "Providers who serve on our committees and boards do so on their own time so we are indebted to them for their service which has been invaluable to our organization. Their involvement truly has made a difference in the care that we provide to our patients."
Erickson said he has a "number of irons in the fire," and plans to stay active with several health care related organizations during his retirement. "It's been an exciting run and we'll see what comes next."