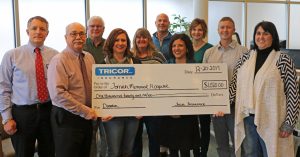 TRICOR Insurance completed its 'Pie in the Face' fundraiser for the new Tomah Health project by presenting a $1,020 check to Tomah Health officials Wednesday.
"The new Tomah Health facility will be a milestone in our community and as a local business we wanted to give something back to the hospital," TRICOR Insurance commercial producer Derek Burnstad said the fundraiser which began in September.
Every month, two TRICOR employees got a pie to the face for collecting the most funds in various milk gallon jugs at the company's office on Superior Avenue. Six employees, including Burnstad took a pie in the face for the cause. "Our goal was to collect $1,000," said Burnstad.
Tomah Health CEO Phil Stuart said the hospital is thankful for TRICOR's support.
"Our success over the years has been a result of our community, so it is satisfying to see local businesses, like TRICOR, get behind our project," said Stuart.