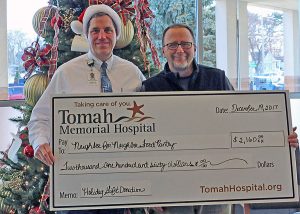 Tomah Health staff, providers and board members made this year's holiday a merry one for Tomah's Neighbor for Neighbor Food Pantry.
According to hospital marketing and public relations director Eric Prise hospital employees, providers and board members had the opportunity to accept a ham from the hospital as a holiday gift or donate the value of the item to the food pantry.
"Over the last seven years staff, board members and volunteers have been given the opportunity to make this donation which has totaled just over $16,000 to the local pantry," said Prise. He said this year's donation amounted to $2,160.
Pantry executive director Doug Staller said the donation will help the organization to purchase a second freezer for the pantry at 111 W. Veterans St., Tomah. "We are humbled by the amount of community support for the pantry," said Staller.
Over the past three months, Staller said the pantry has provided food to about 500 households each month. "It's been a very busy last several months for us."