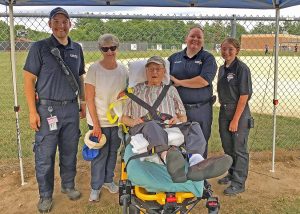 Donald Wagner of Tomah had hoped to watch his great grandson play baseball. But due to his health, a trip to the Tomah ballpark was a bit of a challenge.
"We knew that Donald had this special dream," said Tomah Health Hospice Touch registered nurse Julie Oppelt, who is the case manager for Donald's care.
Thanks to assistance from the Tomah Ambulance Service, Hospice Touch worked out the details for Wagner to be transported to the game July 19 to watch his great grandson, Finn Thompson play baseball. "Donald and his family were so thankful to the Tomah Area Ambulance Service and our Hospice staff for making his dream come true," said Tomah Health Hospice Touch volunteer coordinator Chad Dobson. "It really was a team effort."
Donald was joined by his family members including his other great grandson, Maxton for the game, and even got a baseball signed by all the members of the team.
Following the game, the ambulance staff took Donald to the new Tomah EMS / Fire Department for a quick tour before taking him back home. "Donald was quite active in the community and a big supporter of the Tomah Fire and Ambulance departments, so the tour was icing on the cake," Dobson added. "The entire day was very special, and we are so pleased that along with help from many, we were able to make Donald's dream come true."
To Learn More About Our Hospice & Palliative Care Programs, CLICK HERE