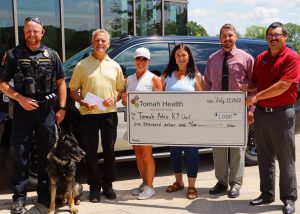 The Tomah Health Community Foundation is working to help keep local neighborhoods safe. Foundation members presented a $1,000 check to Tomah Police Sgt. & K9 handler Adam Perkins and department K9 Viktor July 27 to support the department's K9 program.
"We are really oriented toward the health and wellness of our area, so anytime that we can help to ensure a better world by the use of a K9 to help with drugs and crime and remove them, that's a good thing," Foundation president Brian Eirschele said of the donation.
Perkins said Viktor has played an important role for the department. "Viktor is a dual purpose K9 and does a little bit of everything, but mostly we use him to find illegal contraband and illegal drugs to help get them off our streets and make Tomah a safer place," said Perkins, who has been with Viktor over six-years.
Born in the Czech Republic, Viktor is the fourth K9 the department has had since the local program began in the mid-1900s. "Viktor is a great dog and has had no issues with other people and has no problem integrating with the public in the meets and greets, but also knows when it's time to work and do a good job," said Perkins.
He said the foundation's donation will help to get a second K9 this fall. "This is how much the program means to the city and department," added Perkins.