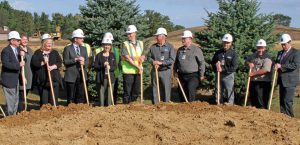 Work has officially begun on construction of the new Tomah hospital. Tomah Health administrators and staff, plus area dignitaries and elected officials broke ground on the $66–million facility along Gopher Avenue near Interstate 90 on Tomah's south side Sept. 28
Hospital board president Paul Potter said while the new three-story, 140-thousand square foot facility will be state – of – the – art, it is the staff that will make the new hospital first-class. "I don't want to downplay the magnitude of this project by saying this, but what we're about to build is just a shell," said Potter. "Great people inside that great facility will do great things."
During the ceremony, Gundersen Health System CEO Dr. Scott Rathgaber, M.D., confirmed plans to build a medical office building on the hospital site. "We're very grateful that Gundersen has been invited to come on this journey," said Rathgaber.
Financing for the project includes a $35 million loan from the U.S. Dept. of Agriculture Rural Development – the largest awarded in the state of Wisconsin—along with a $13 million tax-exempt loan from Associated Bank, and $18.1 – million equity contribution from Tomah Health.
The Tomah Health Foundation has already pledged $275,000 over the next five years to help with construction of planned wellness rooms at the new hospital as well as a walking trail that will encompass the campus. A capital fundraising campaign coordinated by Madison-based McDonaldSchaefer is underway with a goal to raise $2-million for the overall project.
Tomah Health originally purchased the 40-acre construction site in May 2014 from Norman and Evelyn Randall.
CEO Phil Stuart said construction is scheduled to be complete by fall 2019.
There are no definitive plans for the existing hospital at 321 Butts Ave., but hospital officials say preliminary discussions have occurred with interested parties.
Stay up to date on the progress of the construction project thanks to a time-lapse camera and an animated video of the new facility CLICK HERE.