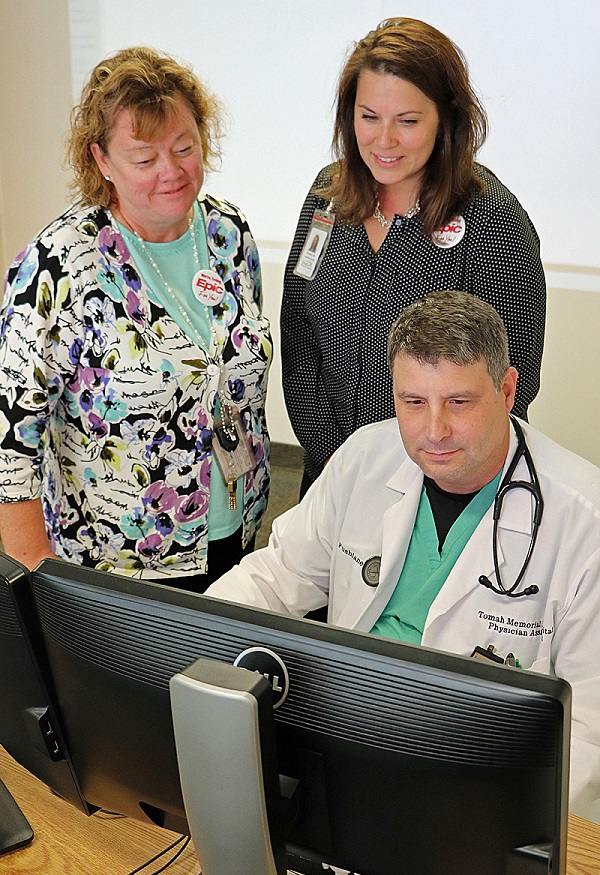 Tomah Health is ready to flip the switch on a new electronic health record (EHR) that officials say will enhance patient care and enrich efficiencies throughout the organization. After nearly two years of planning, Tomah Health information systems director LaVonne Smith said the estimated $3 million conversion to the Epic EHR will go live Oct. 1.
"Epic is the No. 1 software solution for an electronic health record; it's won numerous awards and used by more than 50 percent of hospitals across the nation," Smith said of the Verona based company. "This represents a major investment and change for our organization."
An electronic health record is an electronic version of a patient's medical history that is maintained by health care facilities to include vital clinical data important to a patient's care, including such things as demographics, progress notes, medications, vital signs, past medical history, immunizations, laboratory data and radiology reports.
"It's in the best interest for our community hospital to make the change because it's an electronic software that will allow us to communicate across different departments, so as patients come into our emergency room, for example, information will flow to other areas that we care for our patients," explained Smith.
She said the software will also allow the hospital to better exchange information with both the Gundersen Health System and the Mayo Franciscan Health System, which both use Epic and have clinics in Tomah. "With both clinics having Epic it seemed like the right thing to do. We can leverage the sharing of information from the clinic to the hospital, from the hospital to the clinic and those providers using the Epic software," said Smith.
It is estimated more than 205,000 doctors nationwide are already using the Epic software and over 150 million Americans have a medical record on Epic.
"We're excited about the conversion," said Tomah Health physician assistant Jerry Fushianes, PA-C. "This is going to give us an opportunity to have seamless integration across departments and across platforms so we can share patient information better and provide excellent care."
To prepare for the conversion, more than 300 Tomah Health staff began training in June, which Tomah Health clinical systems analyst Heather Laudon admitted was a bit of a challenge, but well received by everyone. "Over the past four months, we have had over 300 employees spend countless hours completing online training, in-classroom training as well as spending time in an open lab," said Laudon. "The staff that has gone through the training have been across our entire organization everyone from our patient registration, scheduling and billing, to our ancillary services in the lab and imaging, plus clinical front-line staff, which includes our nurses and providers."
Normal hospital classrooms were transformed into training labs, with individual computer stations assembled. Staff were also given special Epic buttons to communicate the change to patients and visitors.
Laudon said the conversion should be "fairly seamless" for patients, but did admit that some routine activities, like registration will take a few minutes longer to accommodate the new system. "The amount of time, efforts and dedication that our staff has invested in the training process over the last few months should ensure a seamless transition for our patients Oct. 1."
She added that patients will want to have their insurance card and a form of identification with them when registering in order to help expedite the process.
Smith said new system will also offer additional features, like online follow-up instructions and appointments that would go into effect later this year. "The reason why we are doing all of this is because we are committed to taking care of our patients and providing excellent health care services in our community," added Smith.