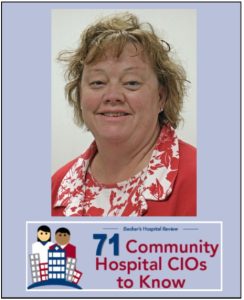 For the third consecutive year, Tomah Health Information Systems director LaVonne Smith has been named one of the top community hospital chief information officers (CIOs) to know in the U.S.
According to a release from Becker's Hospital Review, an industry leading print publication, Smith was listed as one of the top 71 CIOs to know in the country this year. Smith was listed as one of the top 72 CIOs to know in the country last year, and on Becker's first edition of 100 Community Hospital CIOs to Know in 2016.
"While LaVonne would say that the acknowledgment is the result of a team effort, this recognition is really a verification to the dedication and commitment LaVonne brings to the organization and hospital patients," said hospital marketing & public relations director Eric Prise.
The Becker's editorial team solicited nominations and conducted internal research to develop the list. Individuals and organizations represented did not pay and cannot pay for inclusion.
Smith was the only CIO from Wisconsin named to the list this year.
Prise added that Smith has led several technological advancements at Tomah Health, including implementation of a new electronic health record (EHR) in 2017, empowering patients to access their medical information online in early 2018, along with leading the design and installation of information services at the new Tomah Health facility scheduled to open Oct. 2019.
Smith oversees information systems at Tomah Health, which was named among Hospitals & Health Networks' Health Care's Most Wired in 2017 and 2016.
A release from Becker's said staff who lead community hospital and health system IT departments encounter unique challenges in connecting staff members at many locations and providing access to care for rural Americans with limited resources.
Becker's Hospital Review is a monthly publication offering up-to-date business and legal news and analysis relating to hospitals and health systems.