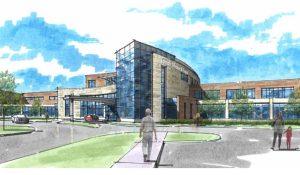 Construction of an estimated $66-million new hospital on Tomah's south side could begin in August or September this year according to the latest plans announced by officials from Tomah Health. CEO Phil Stuart said the hospital board of directors at its annual meeting Jan. 24, directed administration to move ahead with the project scheduled for completion in the summer 2019. He said the directive marks one of several "critical decision points" built into the project.
Last spring, Tomah Health first announced the project, which included building a proposed 130,000 sq. ft. hospital, 80,000 sq. ft. medical office building and 50,000 sq. ft. community / wellness facility on a 40-acre site located on Tomah's south side adjacent to Interstate 90 along Gopher Avenue.
Since then, Stuart said the plans have been modified to an estimated 140,000 sq. ft. three-story hospital and proposed medical office building that would be attached to the hospital.
While no definitive agreement has been reach, Stuart confirmed that active discussions are still taking place with Gundersen Health System officials to be part of the medical office building. Gundersen currently has a clinic along Superior Avenue on Tomah's north side. He also said that officials from the Mayo Health System have "declined to move on the campus at this time, but there is still consideration to provide space for them at a future date." Mayo currently operates a clinic adjacent to Tomah Health on Butts Avenue.
SEE MORE RENDERINGS OF THE PROPOSED HOSPITAL CLICK HERE
Admitting the original plan may have been "a bit grandiose," Stuart said officials are excited about the new hospital, plus the opportunity to add partners to the campus in the future. "Even though we may not get everything started at one time, we are still looking toward the future and what we may be able to add on to our campus as we will have significant space for growth."
As part of the original proposal, hospital officials had early discussions with the YMCA of LaCrosse and an Iowa based firm to build and operate a wellness / community facility, including an indoor swimming pool on the campus. For now, Stuart said that idea is not part of immediate plans. "Obviously we had a lot of hopes to bring a lot more to the campus, but the reality is that it (indoor pool) is a very expensive proposition," explained Stuart. "Right now the hospital could not assume an additional $8 – 12-million to be able to build an aquatic center and unless we had some very significant benefactor to come forward to help fund that, it's probably not feasible." He did say officials are still actively seeking partnerships to take on that part of the project.
Stuart said the hospital is also "very interested" in working with other groups that have a health focus to locate on the campus. "Whether that be a complimentary medicine program or a separate recreation facility, there are lots of opportunities and partnership potentials that we are keeping open for discussion." He said the design does include a walking trail around the hospital campus that could be connected to Tomah's existing recreational trail system.

He said meetings with Tomah municipal leaders and officials from the Monroe County town of Tomah have focused on project infrastructure, including water and sewer lines and construction of a new interchange off Hwy. 16 west of Tomah to link traffic with Goose Avenue and Gopher Avenue, which will act as the major routes into the hospital campus. "We have had a very good working relationship with both the city and the township and feel very fortunate that they are willing to work with the hospital on this project," said Stuart.
Since early last year, hospital staff and administration have been meeting with architects and designers from BWBR of St. Paul, Minnesota, and Market & Johnson of Eau Claire, on specific designs for the building. Those designs, according to Stuart, were the result of a visioning session held over a year ago that involved hospital employees, and medical staff, hospital foundation members, representatives from both health care systems from LaCrosse, along with city and school officials. "We have regular meetings with our design and construction teams, and we are working very closely with all the hospital departments and medical staff on developing how the clinical areas will be laid out and seeking a lot of input from the providers and staff to meet their needs into the future." Staff has been able to get a look at the layout of some departments thanks to six hospital rooms constructed in a rented area at Handishop Industries on Tomah's north side.
Stuart cited the growing needs of the public as a major reason for a new hospital. "We have many departments that provide services, but we have to limit the amount of services that they can provide because we simply do not have the space to do it. Without going into expansion, we continue to limit ourselves and force people in our community to have to leave, or to go to another facility to get the services that we could offer."
Various patient-centered efficiencies are part of the new hospital design including; doubling the capacity of operating rooms, expanding emergency and urgent care areas, increasing obstetric services with additional delivery suites, expanding outpatient infusion services and wound care, enlarging rehabilitation areas and patient rooms, and improving efficiencies in daily workflow. "People don't realize in our emergency room we have seen continuous growth every year for the past 15 years to the point that between emergency room and urgent care we will see more than 16,000 people this year alone," said Stuart.
He said with over 85-percent of the hospital's business involving outpatient procedures, such things as; outpatient medication administration, chemotherapy for cancer patients, and intravenous antibiotics for people with ongoing infections, have more than tripled in the last five years.
Stuart was quick to point out that the project would not result in additional costs to patients. "In all our financial pro forma and bond documents to this point, we are maintaining that we will keep our rates at a level that we currently have been achieving; so we are not anticipating that we will be raising our rates significantly just because of the building project," said Stuart. "We are being able to fund all of this with our current business model and view that for the public as a fiduciary responsibility of the leadership and board of directors."
Since opening in 1952, the current hospital at 321 Butts Avenue has undergone building expansions in 1964, '94 and 2004, which Stuart said addressed increased needs for growth, technology upgrades and updates to the facility. He said the current location however, no longer allows for future growth.
Although there are no definitive plans for the existing hospital, Stuart said some preliminary discussions have occurred with interested parties. "The property across from the hospital that we own as well would make some really nice development land for housing or other programs especially with it being on the lake. The idea of potential new condos certainly may be attractive to a developer, and those are the kind of things that we are weighing our options on." Stuart said they have also determined how much it would cost to tear the building down. "Hospitals are very difficult to retrofit to other purposes. This is a 110,000 sq. ft. building, and to find somebody that needs that much space and to maintain a building of that size for limited use probably is not something somebody may want to undertake."
He expected the next decision point in the project would come in early July when financial documents should be complete thereby allowing the board of directors to make a final "go – no go decision" on the construction. "Having the capacity to do a $66-million project is certainly very doable at this point, and we do not anticipate any problems going forward. Once we have the interest rates locked in and financial documents prepared, we will have a very clear picture of how this will unfold," said Stuart. "That will be a very exciting time."