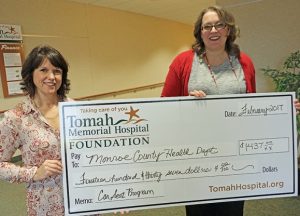 A donation from the Tomah Health Foundation will help supplement a Monroe County program aimed at reducing injuries to children. Officials from the philanthropic arm of Tomah Health donated $1,437 to the Monroe County Health Department to help supplement its car seat program this year.
"In the past we have received about $4,000 from the Wisconsin Department of Transportation to purchase car seats," explained Monroe County Health Department public health nurse & car seat technician Julie Anderson, R.N. "This year we received a fraction of that at $2,500, so this donation from the foundation will supplement the difference from what we typically get from the DOT."
Anderson said the agency distributed 99 car seats last year, but were unable to help everyone. "Last year we ran out of money; we had the $4,000 from the DOT and were not able to give all the families in need a car seat," said Anderson.
Families must meet income requirements similar to the county's Woman, Infants and Children (WIC) program to qualify for a car seat.
Anderson said 23 percent of Monroe County children live in poverty compared to 13 percent in Wisconsin. She said traffic crash statistics also support the need for the program. According to the Wisconsin department of health services, the rate of hospital emergency department visits due to motor vehicle crashes for children under the age of four in Monroe County was 323.1 per 100,000 population, which is higher than the state rate of 250.9 visits.
In addition to car seats, Anderson said the department offers general car seat information, an assessment of the child's age, weight and height to determine an appropriate seat, instructions on how to install and use the seat, plus a review of Wisconsin child restraint laws.
"We provide the seats mostly out of the Monroe County Health Department office but we also have seats available at the Tomah Police Department, at Tomah Health and the Monroe County Sheriff's Department has certified technicians that help us distribute those seats as well," said Anderson. She said the Remembering Jesse Parker public charity also supported the program this year.
Tomah Health Foundation board secretary Kate Schanhofer said the car seat program is a perfect fit for the organization. "It's really our mission at work," said Schanhofer. "It's so important to keep children in proper seats and to have parents instructed on how to put their children in seats to keep them safe. We are so glad that we can be a part of this."
Anderson said the health department also provides free car seat checks to residents who already have a seat. Last year she said the department checked 108 car seats and educated 119 county residents on car seat safety.