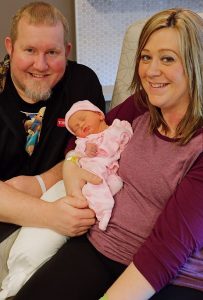 Nick and Megan Scherreiks were a little surprised that their daughter, Mila was the first baby born at Tomah Health in 2020. Mila arrived at 6:26 a.m. Jan. 5 weighing 6 pounds 7 oz.
"I was very surprised especially since it was the fifth of January," said Nick. "I was too," added Megan. "I know a lot of people who are expecting this month, and I wasn't due until the 19th, so I wasn't expecting it."
It is the third child for the Tomah couple who already has two boys.
Mila was one of four babies born at Tomah Health Jan. 5.
Both Nick and Megan admitted there was a little "friendly competition" to have the first child of 2020. "I think he was more competing because he would come in (the room) and say, 'I saw someone leave,'" Megan said of Nick during their stay. "I get that (competition) from my mom's side of the family," Nick added with a chuckle.
The couple said they enjoyed their stay at the new hospital, which opened this past fall.
As the first baby born in 2020, the couple received a gift basket from Women's Health Services at Tomah Health.
Hospital marketing and public relations director Eric Prise said 263 babies were born last year including, 198 at Tomah Memorial Hospital and 65 at Tomah Health which opened Oct. 2. He said of the total, 138 babies were boys and 125 were girls. He said 264 babies were born in 2018. As for the most popular baby names in 2019, Prise said Luna was the top girl's name, while Emmett was the top boy's name.
To Learn More About Our Women's Health Services, CLICK HERE.