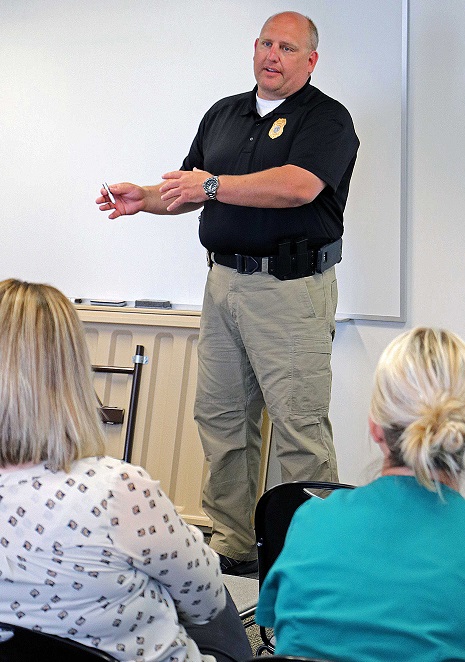 Tomah Police Sergeant Chris Weaver knows how important it is for businesses including medical facilities to be prepared for a possible violent incident.
Weaver spoke to staff at Tomah Health July 6 during three, one-hour training presentations focusing on incidents involving active shooters to natural disasters that put people in crisis.
"I think we have to have a respect for what's going on in our country right now," said Weaver.
He believes the question is not if a situation will occur, but when it will take place. "I don't think we are at a point where the sky is falling, but these situations are becoming more common place and the damage inflected during these incidents is becoming higher, so I think it's a new reality that we have to be prepared for."
During his presentations, Weaver highlighted key points from The Station nightclub fire West Warwick, Rhode Island in 2003 that killed 100 people, as well as shootings at Virginia Tech and Sandy Hook Elementary School in Newtown, Connecticut.
With nearly 20 years on the Tomah Police Department and various training opportunities, Weaver said he has seen a number of incidents that have given him a unique perspective on crisis situations. "When I started putting together this presentation I really looked at it and thought we cannot get to the point where we're communicating if we are not functioning appropriately in the circumstance, which is going to be pretty overwhelming for most people."
Weaver is also the commander of the Monroe County Combined Tactical Unit (CTU) – a multi-jurisdictional SWAT Team staffed by members of the Monroe County Sheriff's Department, Sparta Police Department, Tomah Police Department, Wisconsin State Patrol and the Sparta Area Ambulance.
Weaver said it is a great thing for businesses like Tomah Health to be proactive when it comes to training staff for such incidents. "We're fortunate at the Tomah police department to have people that have had opportunities to go and receive the training," he said. "The common thread throughout the entire response though is to have some kind of a plan for when it happens."
Tomah Health Chief Nursing Officer Tracy Myhre, MSN, RN said the training is part of ongoing education to safeguard staff and keep patients safe. "Our goal is to give staff the tools they need to care for patients, family and visitors in a crisis situation; such as an active shooter event. We feel the best way to do this is through training and drills which will be the next steps in accomplishing this goal," said Myhre. She said two key staff will coordinate the widely known Alert, Lockdown, Inform, Counter, Evacuate (ALICE) training to all Tomah Health staff this fall.
Weaver said police are willing to work with other businesses too. "I don't think we can overstate the opportunity that a business or community group would be in reaching out for help with that. We are more than willing to have those conversations with people."
Despite increased reports of situations nationwide, Weaver feels Tomah is a great place for businesses and families. "We have incidents periodically happen here, but generally I think Tomah is a very safe community."