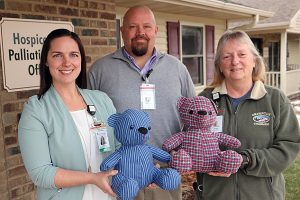 Tomah Health Hospice Touch is creating memories through one-of-a-kind, handmade Memory Bears.
Hospice Touch & Life Choices Palliative Care Director Siera Williams, BSN, RN, said the project kicked off earlier this year upon the arrival of recently hired Hospice volunteer coordinator Chad Dobson. "The idea came up by our former volunteer coordinator, and when we heard about it, we were so excited and started making plans of how to make this dream a reality," said Williams.
She said Chad was able to take the project and run with it. "We got the ball rolling with a particular family that we had in mind – a young family with young children that we thought would love to have something tangible as a memory product for their loved one," Williams said of the Memory Bear concept.
Williams said they brought together a group of current volunteers who had some sewing experience and explained the situation and the rest was history. "They were on board and got them the materials that were required and they had bears back to us within a few weeks."
She said the bears are special since they are crafted from a loved one's clothing, like a favorite shirt or sweater, which helps build that special memory for the family members. "Our goal is always to create a legacy or a memory for the family members who are going to grieve the loss of a loved one," said Williams. "The Memory Bear project is so cool because it is something that they can keep forever and is a tangible item that they can hold when they are thinking about their loved one. We're excited to do this."
Williams said that the first family to receive a bear was at a loss for words. "The bear also contained a small heart-shaped device that had the family member's heartbeat that we were able to record and put inside the bear," said Williams. "They were really excited and surprised- it was just a really cool experience to be able to give back to them from us."
Hospice volunteer Annette Eagan of Tomah made the first Hospice Touch Memory Bear and said it was a worthwhile project. "I do a lot of volunteering, so it's in my faith to give to others," she said. "It's something the family will surly treasure."
For family members interested in the Memory Bear project, Williams said it is a unique way to create a memory. "It is never too early to talk about how you want to be remembered. Loved ones often don't realize how much these things mean days, months, or even years down the road," said Williams.
Tomah Health Hospice Touch & Life Choices Palliative Care volunteer coordinator Chad Dobson said the Memory Bears are part of legacy projects offered to families. "Legacy projects are a wonderful way to preserve the memories we have with our loved ones and are highly encouraged," said Dobson. "These projects give hospice patients an opportunity to process their life by remembering everything they have done and the memories they have shared. The patient and their loved ones can capture that and pass it down from generation to generation. It's a little piece left here on Earth of those that we love so very much," Chad added.
Williams and Dobson said Hospice volunteers have made five Memory Bears and they are looking for additional volunteers to help construct more. "We would like for the volunteers to have some experience in sewing," Dobson explained. "We purchase the pattern and supply them with threads, needles and supplies they need," said Williams. "The bears are not the easiest sewing project so people who have had some life experience with a sewing machine, would really be our ideal candidates," she added.
Anyone interested in making Memory Bears can contact Chad Dobson at Tomah Health Hospice Touch & Life Choices Palliative Care at the main office at 601 Straw Street in Tomah at (608)374-0250. 
"For the person making the bears, they know they are doing something good for themselves and the person receiving the bears," Dobson added. "It's a good feeling knowing that what they are doing matters, while creating a memory for a family that will last forever."
To LEARN MORE About our Hospice Touch & Life Choices Palliative Care programs, CLICK HERE