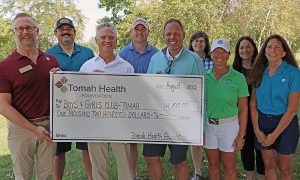 The Tomah Health Community Foundation is helping youth in the Tomah area build healthy lifestyles.
Foundation members presented a $1,200 check to Boys and Girls Club of West-Central Wisconsin chief advancement officer Darren Hornby recently that will be used to support healthy habits and lifestyles through the purchase of new equipment and programming materials for the new up and coming Tomah Boys & Girls Club Rec Center. "The Boys & Girls Club will undergo a complete renovation of our current club site as well as the addition of a new teen center and rec center," said Hornby. "The rec center is going to provide Tomah youth with year-round indoor and outdoor space to stay active and build a healthy lifestyle."
He said programs center on three core pillars, Academic Success, Good Character & Leadership and Healthy Habits. "Donations like this one from the Tomah Health Community Foundation are paramount to the success of the organization. One-third of our funding comes from the generosity of community foundations, business contributions and individual donors. It is this support that has led to our success over the past 23 years," said Hornby.
Based on data from this past year, Hornby said the local club serves 258 members, plus an additional 2,822 youth through other community outreach programs and partnerships with the Tomah area school district and youth serving organizations.
Foundation president Brian Eirschele said the foundation's donation comes from events like the recently held golf outing. "Our success is the result of continued support from area businesses that value the mission of the foundation to endorse health and wellness programs throughout the area," explained Eirschele. "It truly is a team effort." Twenty-nine teams took part in the foundation's annual golf outing held at the Hiawatha Golf Club, Tomah Aug. 4.