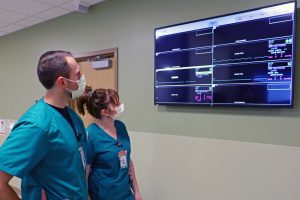 Tomah Health Emergency Services Director Suzanne Downing, DNP, RN, knows that the hospital's Emergency Department is well prepared to treat a wide array of emergencies involving all types of patients including children. To enhance the care provided to children, staff in the hospital's ED is taking part in a multi phased quality improvement initiative to heighten the care provided to kids of all ages. "It's important to remember that children are not just little adults," said Downing." About 80-percent of the patients we see are adults. Some communication tactics and comfort interventions that we provide for adults don't necessarily work for children," she said.
Downing said staff completed an eight-month national initiative of the National Pediatric Readiness project in May and recently began a Wisconsin version of the initiative in October.
She said the national project gave staff a chance to learn from others across the country. "We also were in touch with other hospitals that were participating throughout the nation which gave us the opportunity to discuss what kinds of trends they were seeing versus what we were seeing and how things worked or did not work for them and then apply it to our own projects," said Downing.
"In some of the larger metropolis areas they don't see children in their ER because those patients go to a children's hospital," Downing said. "So it was interesting to hear the perspective of facilities that only deal with children and the things they are doing to improve the experience of the kids in their care and try to evaluate our care of children."
Downing said Tomah Health's focus during the national project was centered on pediatric respiratory illnesses. "We have increased the number of distraction activities that we have available to children who need a test or procedure, along with some additional comfort items, as well as staff education," explained Downing.
During the state project, Downing said they are 'casting a wider net' looking at trends. "We are looking at our internal quality improvement (QI) process and developing a pediatric specific audit tool where we are looking at pediatric visits for any trends that will help us to develop future QI projects based on what we're seeing from the data," Downing explained. "By utilizing the information that we are gleaning from the audits, it will help to enhance the general care of children."
According to Downing about 20-percent of emergency room visits at Tomah Health include children. "Having children from birth to 18 years, our patients cover lots of development levels, so learning and recognizing the different stages and how we can make them comfortable and participate actively in their own care is always good."
Downing said ED staff has also been excited about the pediatric projects. "We have a great group that is hungry to develop their skills and knowledge so that they provide the best care possible. We don't want our community's children to be ill or injured, but we're ready to take care of them if they are."
Tomah Health was featured in a statewide video produced by the Wisconsin Children's Health Alliance, which highlighted hospital participation in the National Pediatric Readiness project. "By participating in this project, Tomah Health is committing to improving pediatric care in their emergency department and working toward the shared goal of making Wisconsin children the healthiest in the nation," said Lorin Browne, DO., Pediatric Emergency Care specialist at Children's Wisconsin and principal investigator for the project.
While the projects focus on children, Downing said the overall process has been a great way to be ready to treat all patients. "We have to be prepared for any emergency. We are the generalists of emergency medicine in a rural setting, so we have to be ready, and have to be knowledgeable and be prepared for anybody to come through our door with any disease or injury."
To Learn More About Our Emergency Services, CLICK HERE