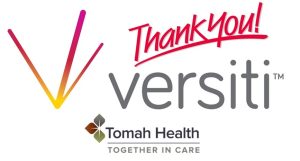 Officials at Tomah Health and Versiti BloodCenter of Wisconsin are praising the efforts of local donors this year.
According to Versiti Blood Center of Wisconsin account representative Emalea Cogdill, during six, two-day drives held in 2022, officials collected 456 whole blood donations and 62 dual red donations. "These collections can provide enough blood to treat 1,554 patients," said Cogdill.
Last year, 464 donors provided blood to save 1,348 lives during six, two-day drives. "Donors seem to always see the need for blood collections and are very supportive of their drives and understand how the blood that we collect at these drives goes to our community hospitals," said Cogdill.
She said this year also saw 81 first time Versiti donors. "It is amazing to see that the donor base continues to grow."
Cogdill said despite the growth, there is always need for additional donors to keep area blood supplies stable and ready for health care partners. "I feel that in 2023 people are going to look for ways to give back. They have been kind of limited in what they can do in the outreach in the community over the last few years, so I do hope that in 2023 people see that blood donation is a way they can give back to their community," she said.
Versiti is the sole supplier of blood to nearly 50 hospitals in Wisconsin including Tomah Health.
Cogdill said six Tomah Health – Versiti drives are scheduled next year in Tomah with the first one planned Jan. 31 & Feb. 1, 2023. "While medical technology has provided many lifesaving discoveries over the years, there still is no substitute for blood, making it essential to hospitals every day of the year," said Cogdill. "The need for blood never ends."