Tomah Health has a new tool that places the hospital in an elite group of health care facilities. A new daVinci® Surgical System has been added to the surgical department at Tomah Health that hospital officials say will result in shorter hospital stays, better recovery and enhanced outcomes. "This is a big investment for our organization, but one that we do believe will pay major dividends both short, mid and long term, since this is state-of-the-art technology and we want to be at the forefront of that in rural health care," said hospital CEO Derek Daly during an event July 19 that introduced the system.
Daly said the new system places Tomah Health in an exclusive group of hospitals. "This technology has predominantly been in larger cities and larger hospitals and systems, and we are excited about bringing that technology to rural health care and excited for what that means for our patients."
He said of the approximately 3,000 critical access hospitals in the United States, Tomah Health is among 60 facilities with the daVinci® system. "This is something that can solidify our surgical program in our area and has the opportunity to bring additional patients, surgeries and surgeons to our area," Daly added. There are more than 1,700 daVinci® Systems installed in hospitals worldwide.
Tomah Health has been a critical access hospital since 2001, a designation developed by the U.S. Congress in 1997 to reduce the financial vulnerability of rural hospitals and improve access to health care by keeping essential services in rural communities.
"It's wonderful to have daVinci® here in our facility. It's a big step in the future for us," said Tomah Health Surgical and Endoscopy Services Director Bridget Burbach MSN, RN, CNOR. She said the system sets Tomah Health apart from other area critical access hospitals. "The daVinci® robot really takes us to another level of service, so it really is a game changer."
Burbach said surgeons will use the system for surgery including gallbladders, hernia repair and hysterectomies with future plans to include additional gynecology and urology procedures. "We have already had a few cases with daVinci® and all went well. Our surgical staff and surgeons are very excited to have the new system. It's a very progressive thing to have in a small town."
She said the term robot – similar to the current Mako SmartRobotics at Tomah Health is a misnomer, because surgeons actually perform the surgery. "The daVinci® system is robot-assisted surgery. The surgeon controls the robotic arms by using hand pieces on the surgeon console, which allows for much more precise movement than can be consistently achieved by the human hand. The surgeon console provides a magnified 3-D view as opposed to a 2-D view from a standard laparoscopic approach allowing better visualization of the surgical site," explained Burbach.
Tomah Health General Surgeon Dr. John W. Robertson III, M.D. welcomes the new system, which he said changes the surgical field. "What we are able to do with daVinci® is to decrease OR (operating room) time which manifests into decreasing patient recovery, pain and bruising. This is huge for the community to have a system like this available and I believe that this will become the standard of surgical practice in the future," said Robertson. "This is not traditionally an area that you would see a system like this mainly because of the expense of the system and the fact that normally these newer technologies are seen in the medical-education fields before filtering out into the rest of the nation."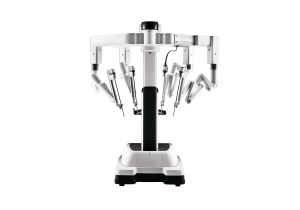 Besides the technological advancement of daVinci®, Daly, Robertson and Burbach said the system will assist in attracting staff since the majority of surgeons coming out of medical school have trained on it. "This is a big recruitment and retention tool," said Daly. "Medical students and surgeons are being trained on this technology so they have expectations that the hospital that they go to is going to have this technology, so we think this sets us apart from other small, rural hospitals," said Daly. "It certainly raises the bar here at Tomah Health," added Burbach.
To Learn More About our daVinci Surgical System, CLICK HERE