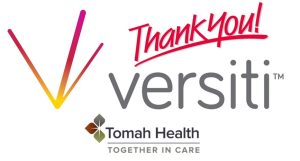 Tomah Health and Versiti Blood Center officials are asking area residents to help meet a high demand for blood by donating Oct. 4 or 5 in Tomah.
"Heading into the fall and with the start of school, Versiti has seen a drastic drop in donations. Adding to this, across our footprint, Versiti is seeing fewer first-time donors," said Versiti Blood Center account representative Emalea Cogdill. She said around 20% of blood donors are first-time donors. "Unfortunately, more than 50% of those donors only donate once. With an aging donor base and increased need, first-time blood donors are desperately needed."
Versiti Blood Center is the sole blood supplier to over 50 hospital systems in Wisconsin including Tomah Health, the Tomah Veterans Affairs Medical Center and numerous other hospitals in the Coulee Region.
To help meet the need, Tomah Health and Versiti Blood Center of Wisconsin are holding a two-day blood drive Oct. 4 & 5 from noon – 5 p.m. at Tomah's Recreation Park, 1625 Butts Ave., Tomah.
To donate blood, a person must be in good health, at least 17 years old, weigh at least 110 pounds and have photo identification. Sixteen-year-olds may also donate with parental consent. While the process for whole blood donation usually takes about one hour, the blood collection itself is usually about 10 minutes.
"The loyal donors at Tomah Health drives continue to hear our pleas and roll up their sleeves, for which we are extremely grateful," added Cogdill. "If every eligible donor could encourage a friend or family member to give blood donation a try as well, the impact on the local blood supply would be significant and save lives."
To register for the Oct. 4 drive, CLICK HERE
To register for the Oct. 5 drive, CLICK HERE