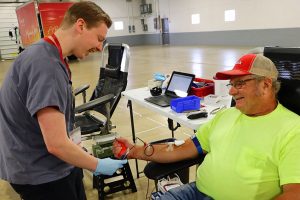 Ron Konieczny enjoys supporting good causes that's why he donates blood. "I was a volunteer fireman for the Oakdale Fire Department for 25 years and when I retired from that I decided that I wanted to do something so I decided to donate blood," he said. The Tomah resident has been donating blood for about a year and a half.
Konieczny was one of 81 donors to attend a two-day Versiti BloodCenter of Wisconsin / Tomah Health blood drive at Tomah's Recreation Park May 31 & June 1.
"It's for a great cause and I like to give something back to the community and it stays local, so it's a win, win," said Konieczny.
Versiti is the sole supplier of blood to nearly 50 hospitals in Wisconsin including Tomah Health.
Ron said he donates every time a hospital drive is held. "It's a very good cause, in fact I have told several people to come here and donate," he said.
Versiti officials said the two-day drive collected blood products that will save 199 lives. "Having a stable blood supply requires all eligible donors to give continuously when they can to assure that our community hospitals, such as Tomah Health, have the blood that they need at all times," said Blood Center account representative Emalea Cogdill. She said nine first time donors participated in the two-day drive.
Cogdill said one in seven patients entering a hospital will require a blood product. "Without community blood drives and generous donors we can't meet that demand," she added. Officials report that more than 50% of Versiti's blood supply comes from local drives.
Tomah area residents can donate during the next scheduled Versiti / Tomah Health blood drive Aug. 9 & 10.