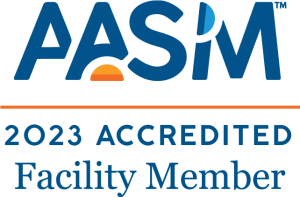 Tomah Health Sleep Services has been accredited by the American Academy of Sleep Medicine (AASM). Hospital Pulmonary Services Director Sarah Cole, RRT, BBA, said the accreditation ensures high standards for patient care. "It's super exciting," said Cole, who oversees Sleep Services at Tomah Health. "Everyone worked very hard to make this program a success to show the community and our facility how dedicated we are to patient care and giving them the absolute highest quality possible." Cole said the accreditation is a first for the department, which was created in 2010.
To receive and maintain accreditation for a five-year period, a sleep center must meet or exceed all standards for professional health care as designated by the AASM. "The American Academy of Sleep Medicine congratulates Tomah Health Sleep Services on meeting the high standards required to earn accreditation as a sleep disorders center," said AASN president Dr. Jennifer Martin. "Tomah Health Sleep Services is an important resource for the local community and will provide the highest quality care for people who have sleep disorders," Martin added.
Officials say the accreditation standards address core areas such as personnel, facility and equipment, policies and procedures, data acquisition, patient care and quality assurance.
Tomah Health Sleep Services is directed by Alexander M. Villareal, M.D., and together with Tomah Health Sleep Medicine nurse Practitioner Kelly Thayer, FNP-C, collaborate to diagnose and treat various sleep disorders at the hospital. "This is an indicator to patients that we meet all the standards set by the American Academy of Sleep Medicine," Thayer said of the accreditation. "It also means that everyone who works in this department offers high care for our patients."
Cole feels the accreditation validates the care offered to people with sleep issues. "Overall we've picked up quite a bit in the number of patients we are treating," Cole said. "We are able to diagnose and treat a range of patients, starting from the age of 6, with insomnia, narcolepsy, restless leg syndrome, REM behavioral disorder, obstructive sleep apnea, and central sleep apnea with a face-to-face visit or the convenience of a telemedicine visit."
Thayer said service has grown with patients noticing difference in their sleep. "I think that sometimes people are really surprised that we can make such a big difference in their sleep. Many people feel so much better when they are treated and are usually happy." She added that insurance is more likely to cover services offered by an accredited facility. "We also work closely with the patients and sleep medicine companies to make sure patients get the equipment they need."
The American Academy of Sleep Medicine is a professional medical society for clinicians, researchers, and other health care providers in the field of sleep medicine. There are more than 2,600 AASM-accredited sleep centers across the country.
To learn more about our services and how you can get a better night's sleep, CLICK HERE.