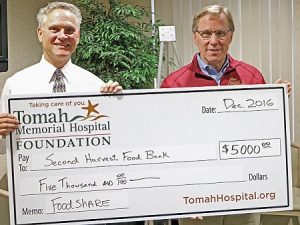 A donation from the Tomah Health Foundation will help area residents obtain benefits from a food program aimed at ending hunger. Officials from the philanthropic arm of Tomah Health donated $5,000 Friday to the Second Harvest Foodbank of Southeastern Wisconsin's FoodShare program.
Second Harvest CEO / President Dan Stein said the support from the foundation is important since residents continue to struggle with hunger. "Even though people are now employed and they may have been unemployed years ago, they are not making enough to make ends meet, so they still need help," said Stein. "They may not need help 30 days a month, but three, five or seven days of the month – that's the type of people we are seeing. If you make 10 or 12 dollars an hour you can't feed a family on it."
Formerly known as food stamps, eligible residents receive a QUEST Card which is a debit like card that is loaded with a person's FoodShare benefits that can be used at most grocery stores and many Farmers' Markets.
Stein said the foundation's donation helps ensure potentially eligible participants learn how to obtain benefits while meeting larger community needs by drawing down federal dollars into the local economy. "The foundation's donation will be doubled by the U.S. Department of Agriculture (USDA) thereby becoming $10,000," Stein explained.
From July 2015-June 2016, Second Harvest assisted with 98 FoodShare Wisconsin applications in Monroe County, including 51 in Tomah, which generated $149,701 in benefits for residents struggling with hunger to purchase food at local grocers, while adding $267,964 in economic impact in Monroe County. "People going to the grocery store need to purchase gas, they may need vehicle work- whatever it is, so these things all trigger a variety of different things that happen because of this and that is how they measure that impact," explained Stein. The USDA estimates that every $5 spent in FoodShare benefits generates nearly $9 in local economic activity.
Tomah Health Foundation president Brian Eirschele said the donation marks the third year that the foundation has supported the cause. "It's heart-warming for the foundation to help support Second Harvest; it's a wonderful organization," said Eirschele.
"With Tomah Health's Foundation involved, they are giving back to the community," said Stein. "They want to help prevent problems from happening. This is a perfect example of generosity."
Stein said there are also a number of key partners in Tomah and Monroe County that assist Second Harvest in providing one-on-one application assistance and distributing FoodShare Wisconsin information including; Neighbor for Neighbor Food Pantry, The Kupper-Ratsch Senior Center, Tomah VA Medical Center, the Veterans Assistance Foundation, Families First of Monroe County, Faith in Action – Monroe County, Western Technical College – Tomah, the Job Center, Riverfront, Inc., Manpower, Inc. and Volunteer Income Tax Assistance (VITA) sites.
FoodShare Outreach accounts for 17-percent of total meals distributed annual in the organization's 16-county service are including Adams, Columbia, Crawford, Dane, Dodge, Grant, Green, Iowa, Jefferson, Juneau, Lafayette, Monroe, Richland, Rock, Sauk and Vernon.
Second Harvest hopes to submit 3850 applications this fiscal year thereby generating nearly 2.2 million meals.
"There's enough food in this country that is thrown away to feed everybody," Stein said. "We just need to figure out how to get that food to the right people and we should not have this problem."