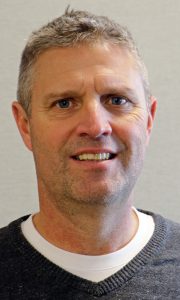 Tomah Health board chair Greg Gaarder says the hospital is well positioned heading in to another year. "Organizationally, we are in a really good position; both financially and where we are heading with health care," said Gaarder, the former business manager of the Tomah Area School District. "I could not be more pleased with the work and investments in health care and staff as well. We have been very fortunate here in Tomah and it all starts with the staff."
Gaarder was re-elected chair during the hospital's organizational meeting held Jan. 17. "It has been a privilege to be the chair," Gaarder said. "We have a great administrative staff and staff in general that really makes the board's job easy; so I'm looking forward to continuing that work with them."
The biggest change for the organization over the past year was the hiring of CEO Derek Daly who replaced longtime CEO Phil Stuart in August. "Derek has done an excellent job. He has a personality that that has made this transition very easy," Gaarder said. "I'm excited for what he has done and to see where he and the rest of the team can take us in the future."
Gaarder was quick to thank current administrative staff during the leadership transition. "It really speaks highly to the administrative team that is in place. There is a lot of stability in the organization."
Considering the stresses on hospital staff as the result of COVID and staff shortages, Gaarder had high praise for hospital employees over the last 12 months. "What they have accomplished and what they have done is unbelievable. It's nice to see the stability that we have had with our staff and their continual effort to provide quality health care to our community," he said.
During the board's election of officers, director Keith Laugen was re-elected vice chair, while B. Scott Nicol was elected secretary and
Deb Buswell was elected treasurer. Nicol replaced Spencer Stephens, while Buswell replaced John Laufenberg.
Stephens, Laufenberg and Penny Precour wrapped up their terms on the board. "They were there when we built the new hospital, guided us through COVID and took us through the hiring of a new CEO, so in a lot of respects, their work is going to drive Tomah Health for the next five to 10 years and longer," added Gaarder.
Tomah residents Beth Arity, Diana Gerke and Wes Revels were elected to three-year terms to fill the board vacancies. Revels is the Monroe County Sheriff who previously served on the hospital board. Arity is the Safety Patient Handling & Mobility Facility coordinator at the Tomah Veterans Affairs Medical Center. Gerke is a real estate broker at First Weber Realtors, Tomah.
The other hospital board directors include; Sue Playter Mubarak, Mayo Health System Family Medicine provider Tiffany Casper, D.O. and Gundersen Health System obstetrician/Gynecologist Robert Holness, M.D.
Casper and Holness will serve on the board as medical staff representatives. Casper replaced Mayo Health System Family Medicine provider Jeffrey Cavaness, M. D. who fulfilled his term. Casper and Holness both serve on the hospital Medical Executive / Peer Review Committee, which meets monthly and oversees medical practices at Tomah Health.
In 2008, members of the former hospital corporation amended the organization's Articles of Incorporation to allow for a self-perpetuating board, which relies on a nominating committee of board members and community leaders to nominate the new candidates.