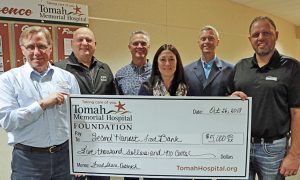 A donation from the Tomah Health Foundation will help put healthy food within reach of struggling families. Officials from the philanthropic arm of Tomah Health donated $5,000 to the Second Harvest Foodbank's FoodShare program Oct. 26.
"We are very grateful for partnerships, especially with the Tomah Health Foundation who has been with us for six years now and the difference that it makes with the community and the people we serve," Second Harvest Foodbank president & CEO Dan Stein said of the donation.
Formerly known as food stamps, FoodShare Wisconsin allows eligible residents to receive a debit card that is loaded with a person's FoodShare benefits that can be used at most grocery stores and many Farmers' Markets.
"More than half the people we serve have someone in their household with a full-time job so when they need food resources and they can't get to the food pantry when it's open, FoodShare Outreach and the benefits they can get – when and where they are available is a real advantage to many people we serve," explained Stein.
From July 2017-June 2018, Second Harvest assisted with 83 FoodShare Wisconsin applications in Monroe County, which generated $134,173 in FoodShare benefits for residents to purchase 48,091 meals, while adding $240,169 in economic impact in Monroe County. The U.S. Department of Agriculture (USDA) estimates that every $5 spent in FoodShare benefits generates nearly $9 in local economic activity.
Under the program, the USDA will double the Foundation's $5,000 donation to $10,000 which Tomah Health Foundation president Pete Reichardt said pays big dividends.
"We want to get involved in causes that support families and children to help make a difference and this is certainly one of those organizations," said Reichardt. "Studies have shown that if families and children can get good nutritional meals that has an impact on their ability to function not only in school but throughout their lives and keeps strong families."
FoodShare Outreach accounts for 20-percent of total meals distributed annually in the organization's 16-county service area including Adams, Columbia, Crawford, Dane, Dodge, Grant, Green, Iowa, Jefferson, Juneau, Lafayette, Monroe, Richland, Rock, Sauk and Vernon.
Second Harvest hopes to submit 3,879 applications in their 16-county territory and generate $11.2 million in economic impact and 2.2 million meals this fiscal year.
The FoodShare program was launched in June 2009 and is promoted through a volunteer-staffed, toll-free help line (1-877-FOOD-635 and 1-855-FOOD-635).
Callers are screened for eligibility and encouraged to apply for FoodShare benefits if deemed potentially eligible. They are referred to sites throughout the Foodbank's service area, to receive free one-on-one application assistance from FoodShare outreach specialists.