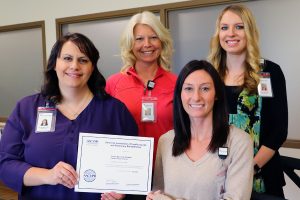 The cardiovascular rehabilitation program at Tomah Health has been recertified by the American Association of Cardiovascular and Pulmonary Rehabilitation (AACVPR).
Hospital cardiac rehabilitation coordinator Shana Steele, MS, RCEP, CCRP, CES, CSCS, said the certification recognizes the program for its commitment to improving the quality of life by enhancing standards of care. "Our goal is to provide the best patient care possible and being awarded AACVPR program certification demonstrates our commitment to the area and to our patients in improving their overall health and well-being," said Steele, who is also a registered clinical exercise physiologist.
The Cardiac Rehabilitation program was formed in 1990 and was first certified in 2013. Officials say AACVPR-certified programs are recognized as leaders in the field of cardiovascular and pulmonary rehabilitation because they offer the most advanced practices available. AACVPR Program Certification is valid for three years.
As part of the certification process, Steele said staff participated in an application process that required extensive documentation to evaluate the program components and outcomes. "This is an outstanding achievement for our hospital and patients in our community," Steele added. "Certification is truly the gold standard for us."
Cardiac Rehabilitation at Tomah Health is a medically supervised outpatient exercise program designed to provide comprehensive care to people who have recently experienced a cardiac event like a heart attack, coronary artery angioplasty or stents, open heart surgery such as coronary artery bypass graft or valve surgery, stable angina, heart transplant or heart failure.
"Our program promotes healthy lifestyle changes to manage and prevent heart and vascular risk factors by educating on exercise, nutrition, weight loss, stress management and tobacco cessation," Steele explained. "In addition, our team works with patients to improve their cardiovascular strength and endurance, and enhance their overall health and quality of life, while providing a support network for the patient and their family."
AACVPR Program Certification is the only peer-review accreditation process designed to review individual programs for adherence to standards and guidelines developed and published by AACVPR and other professional societies. Each program is reviewed by the AACVPR Program Certification Committee and Certification is awarded by the AACVPR board of directors.
Founded in 1985, the American Association of Cardiovascular and Pulmonary Rehabilitation is a multidisciplinary organization dedicated to the mission of reducing morbidity, mortality and disability from cardiovascular and pulmonary disease through education, prevention, rehabilitation, research and disease management. Central to the core mission is improvement in quality of life for patients and their families.
To Learn More About the Program, CLICK HERE