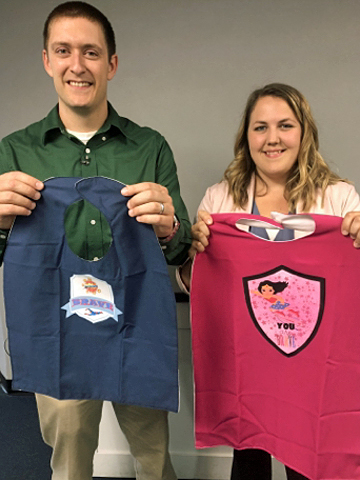 Children undergoing medical procedures at Tomah Health have less to be afraid of thanks to the ladies' ministry group from Bethel Baptist Church in Camp Douglas.
Hospital emergency department registered nurse and ministry group member Christina Manion said the group has been distributing Brave Capes to help children get through scary situations. "Our church has prepared these capes as an opportunity to help children have a tangible way to get through some of these tough circumstances whether in the hospital emergency room (Emergency Room) or out in the community," Manion said of the colorful superhero-type capes.
Manion said the idea for the capes came about when a young girl in the church told her grandmother she had "lost her brave" before a hospital surgical procedure. "A couple of years ago one of the children in our church was scheduled for a very serious surgery at a hospital in Milwaukee," explained Manion. "Her mother and grandmother were talking to her, trying to prepare her for the surgery. At one point her grandmother said, 'you have to be brave', to which the little girl replied, 'but I've lost my brave.'"
Manion said one of the women in their church heard the conversation and decided to give the child something tangible to help her find her brave. "The woman went home and created the very first prototype of what later became the Brave Capes that we are making today," Manion said. "For that little girl, the Brave Cape was accompanied by the reminder that God would be with her and that she could be strong and brave."
Tomah Health CT/MRI/radiology technologist and church trustee Andrew Frei has been helping distribute the capes to medical facilities, like Tomah Health. "It is encouraging for adults too to know that the hospital or EMS (emergency medical services) that is giving out the cape, cares for the child and what they are going through in that situation," said Frei. He said the capes can be used for children who face a medical procedure or may have experienced a fire or an accident. "We are excited to give these Brave Capes to the hospital and to also make them available to emergency personnel, such as Emergency Medical Services, ambulance crews, first responders, firefighters and police officers."
Frei and Manion agree that the Brave Capes are a reminder to the children that they can be brave even though something scary might be happening.
"It's been an awesome opportunity for the ladies at our church to be involved with," said Manion. "Some have donated fabric, some are involved with the cutting-out the Brave Capes, some do the actual sewing, some do the artwork and the lettering on the Brave Cape." She added that older women, those whose vision or physical challenges make it hard for them to make the Brave Capes, have said that they are praying for the children in fearful situations who will actually wear the capes. "This really is a labor of love for all of us," said Manion.
"Somehow that tangible reminder, something the child can hold on to, can wear, has reminded the children that they could be brave," said Manion. "Maybe part of it is the distraction, but somehow, someway, the Brave Cape seems to help."