Regain your youthful appearance
Look as young as you feel with the help of Tomah Health's skin care expert. Dr. John Robertson offers extensive cosmetic experience and personal attention to enhance the beauty in you. Based on your specific goals, Dr. Robertson can perform several simple, FDA-approved procedures to eliminate wrinkles, frown lines and deep facial folds.
BOTOX®
BOTOX is a quick, safe and simple procedure that can eliminate frown lines and wrinkles, giving you a relaxed and youthful appearance. Just days after a single treatment (only a few injections that take about 10 minutes) you'll notice improvement in moderate to severe frown lines between the brows that can last up to four months.
BOTOX is a purified protein produced by the Clostridium botulinum bacterium. Administered non-surgically, BOTOX can reduce the activity of the muscles that cause frown lines between the brows to form. BOTOX is the only treatment of its type approved by the Food and Drug Administration (FDA). Learn more about BOTOX.
WRINKLE FILLERS
Juvéderm™ and Radiesse® restore a smoother, more youthful appearance to skin by immediately correcting deep facial folds and wrinkles without affecting your natural expression.
JUVÉDERM® XC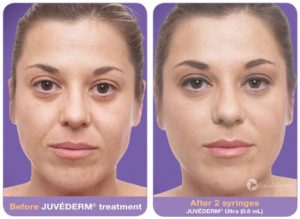 Juvéderm is an injectable gel that is especially effective at correcting creases or folds that run from the nose to the mouth as well as adding volume to thin and aging lips. It can instantly take years off the appearance of both women and men. A natural-occurring substance that is formulated by Allergan (maker of BOTOX), Juvéderm is approved by the FDA.
Photos used with permission of Juvéderm.
RADIESSE®
Radiesse is an injectable filler that temporarily adds volume to help smooth moderate to severe facial wrinkles and folds, such as the creases that extend from the corner of your nose to the corner of your mouth. Made of tiny calcium-based microspheres that are suspended in a natural, water-based gel, Radiesse is absorbed by your body over time, leaving behind only your own natural collagen for results that may last a year or more. Radiesse is FDA approved.
Cosmetic Services Consultation
"*" indicates required fields
Full payment (credit card or cash) is required in advance of all cosmetic services.